Hāna, isolated from the rest of the island, is truly the last undeveloped tropical paradise on Maui. Along Maui's rugged eastern coastline, it is considered one of the last unspoiled Hawaiian frontiers. Picturesque views of spectacular waterfalls, the rugged Hāna shoreline, and some of the best beaches on the island can only begin to describe what awaits you. The charm of Hāna is the fact that little has changed over the last 20 years. Untouched by the major developments of the other side of the island, the Hāna community has managed to perpetuate the small town atmosphere, Hawaiian culture and most of all, its natural scenic beauty.
Getting here
Hana town & History
Tours & Activities
Dining & Shopping
Life in the Jungle
Getting here.
"The Road To Hana"
The legendary road to Hana is only 52 miles from Kahului, however the drive can take anywhere from two to four hours to complete since it's fraught with narrow one-lane bridges, hairpin turns and incredible island views. The Hana Highway (HI-360) has 620 curves and 59 bridges. The road leads you through flourishing rainforests, flowing waterfalls, plunging pools and dramatic seascapes. There are plenty of opportunities to stop and enjoy the lovely views, so get an early start and take your time on your drive. If you have cars backing up behind you on the road, pull over at a safe place and let them pass. The locals greatly appreciate this and probably wave or honk to thank you.
Hana Town & History.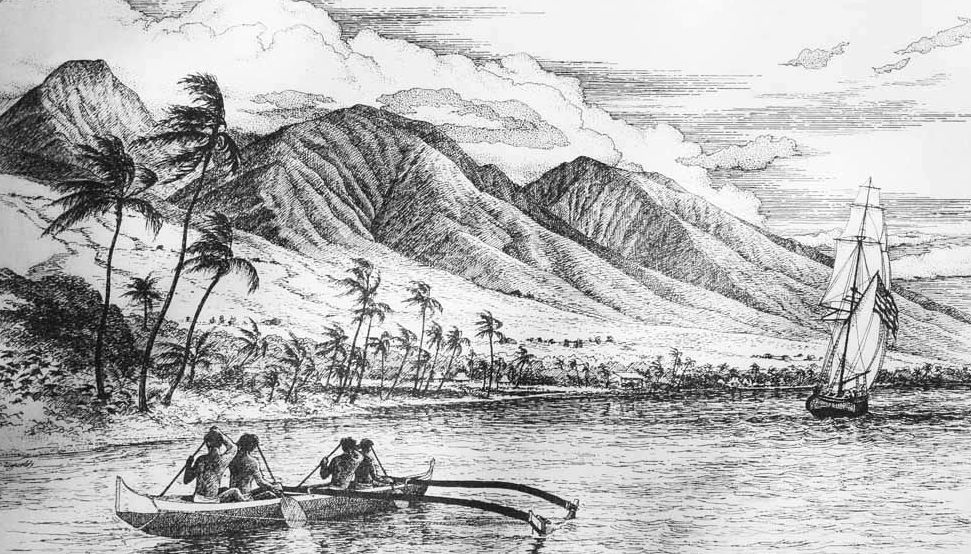 500-800 AD
Polynesians arrive in Hawaii. 15th Century Pi'i-lani Heiau (Temple) is built (the largest in the state of Hawaii)
1768
Queen Ka'ahu-manu is born in a cave on the side of Ka-'uiki Hill. Most noted for her strong will and independence, she was the favorite wife of King Kamehameha I. See the site at Hana Bay.
1849
George Wilfong starts the first sugar cane mill in Hana near Ka-'uiki Hill.
1883
Six separate sugar plantations are in operation in Hana: Kaeleku Sugar Co., Hamoa Agri. Co., Kawaipapa Agri. Co., Hana Sugar Co., Reciprocity Sugar Co., and Haneoo Agri. Co.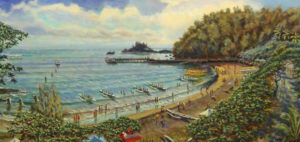 1926
The Hana Highway is completed. The gravel road makes it possible for trucks and cars to travel from Hana to Kahului.
1900-1940
Hana is a bustling town, population 3,500. There are two movie theaters, 15 different stores, three barber shops, a pool hall and several restaurants.
1944
Paul Fagan starts The Hana Ranch with 14,000 acres of land and a herd of Herford cattle from Molokai.
1946 April 1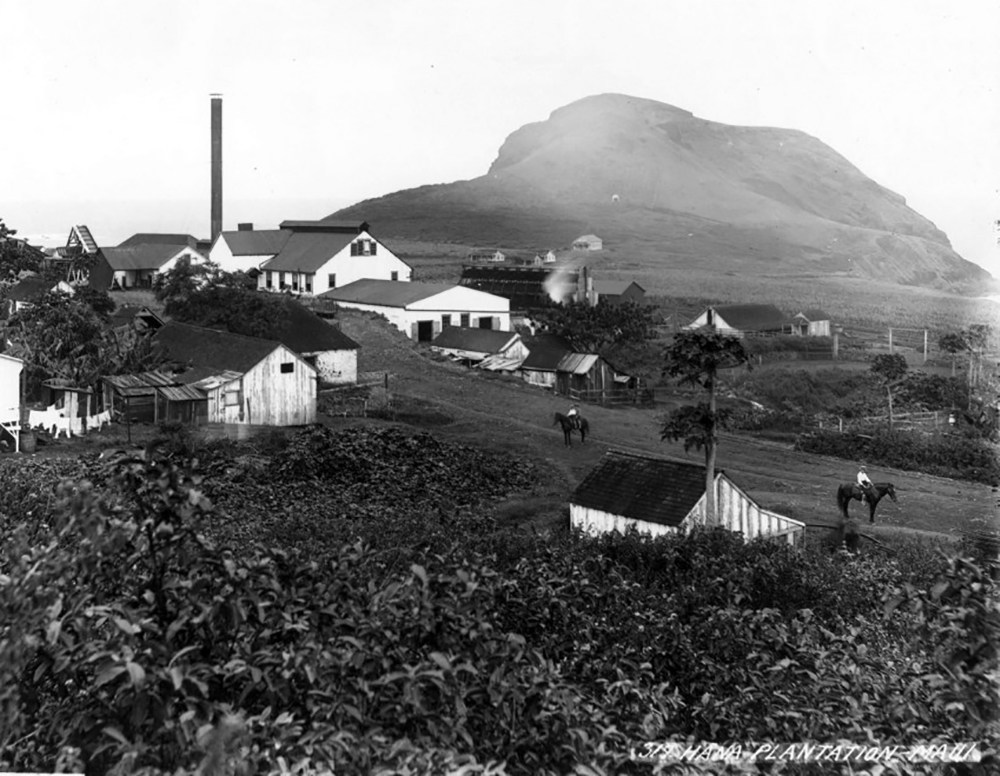 Tidal wave hits the Hana coast. 12 people die.
1946
The last sugar plantation closes, signaling the end of the sugar industry in Hana. Many families, unable to find work, move to the plantations on the other side of the island. Paul Fagan, a retired entrepreneur from San Francisco starts the Ka-'uiki Inn, now known as the Hotel Hana-Maui (now Traavasa), in an attempt to attract tourists to the area.
1970
Paul Fagan dies. A lava rock cross is erected on a grassy hill overlooking Hana Town in his memory.
1974
The famous aviator Charles Lindbergh spends his last days in Hana before dying. He is buried in a quiet cemetary in Kipahulu.
1984
The Hotel Hana-Maui and Hana Ranch bought by the Rosewood Corporation of Dallas, Texas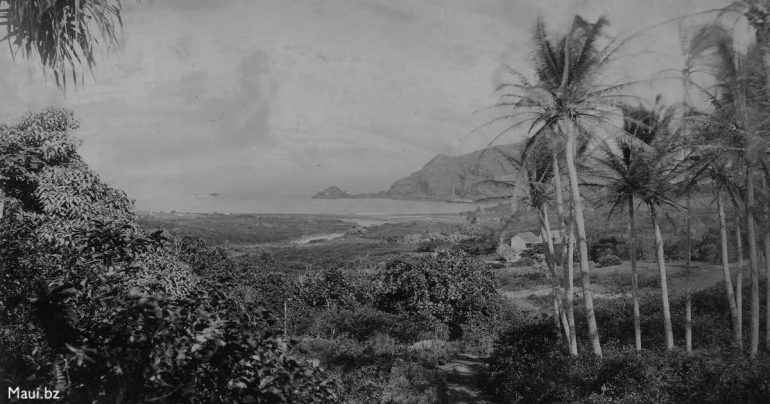 1989
The Hotel Hana-Maui and Hana Ranch are bought by the Keola Hana-Maui, an international investment group made up of Japanese, British and local investors.
July 2000
Meridian Financial Resources, an organization of Chicago-area investors, take control of the Hotel Hana-Maui and Hana Ranch from Keola Hana,Maui.
January 2001
Meridian Financial Resources sells the 4,500 acre Hana Ranch to Hana Acquisition Partners, which is largely financed by the Ronald Getty Trust and Susan and Roy o'Connor.

Tours & Activities
Spa:
Luana Spa Retreat
Massages, body treatments and skin care- call (808) 248-8855
Located in Hana town across from ballpark
The Spa at Travaasa Hotel
For hours and rates call (808) 270-5290
Hana Arts Barn
Offers yoga, dance, and art classes to the public.
Check schedule at www.hanaarts.com
Culture:
Hana Cultural Center and Museum
Located in Hana town, gift shop with local crafts.
Stop by or call for hours (808) 248-8622
Kahanu National Tropical Botanical Garden & Preserve
Open Monday-Friday 9:00 am-4:00 pm Saturday 9:00 am – 2:00 pm
Self guided and guided tours available, call (808) 248-8912Located on Ulaino Rd.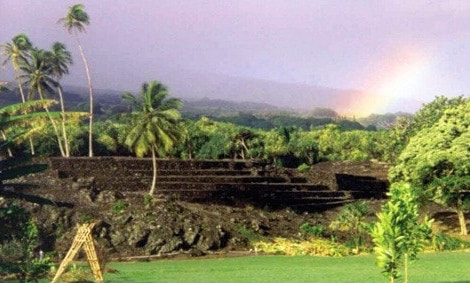 Art:
Ark Ceramics Studio
8 miles beyond Hana town between mile marker 46 & 45.
Open 11am -4pm daily http://www.arkceramics.net/Welcome.html.
Call (808) 248- 4890
Karen Davidson Fine Art Studio
5 miles beyond Hana town (808)248-4877
http://www.karendavidson.net/
Hana Coast Gallery at Travaasa Hotel
Located in Hana Town. Open daily 9am- 5pm
(808) 248-8636
Farm Tours:
Ono Organic Farm
Tours offered every Tuesday
Space must be reserved (808) 248-7779 – https://www.onofarms.com/
Farm stand located in Hana town
Kapahu Living Farm
Traditional taro farm near National Park in Kipahulu- Call (808) 248-8673
Hana Gold Chocolate Farm
Tours offered Monday-Saturday at 2 pm. Call ahead.Open: Monday-Friday 9am-4pm and Saturday 10am-4pm
(808) 248-8399 – https://hanagoldmaui.com
Hana Tropicals
Tours offered:daily, 10:00 am- 4:00 pm.
Walk-ins welcome
(808) 248 7533   http://hanatropicals.com
 Activities and Parks:
Haleakalā National Park at O'heo Gulch (Seven Sacred Pools)
Pīpīwai Trail (bamboo forest hike), freshwater pools, waimoku falls, and visitor center.Guided tours available call or check online for days and times. (808) 248-7375
Wai'anapanapa State Park
Hiking trails, black sand beach, blowhole, and fresh water caves.
Horseback Riding
Trail Rides available through Hotel Travaasa. Call concierge (808) 270-5276
Hana Lava Tube Cave Tours
Open Daily 10:30-4:00 for self guided tours – call (808) 842-7308 $12.50/per person, kids 5 and under free – Mauicave.com
Located on Ulaino Rd.
Hang Gliding Maui
Located at Hana Airport- Call (808) 572-6557
http://www.hangglidingmaui.com/
Pamphlet located in living room coffee table
Skyview Soaring
Located at Hana Airport- Call (808) 248- 7070
Kayak & Snorkel Eco CruiseLocated at Hana Bay- for reservations call (808) 248 7711 or (808) 264-9566
Tennis & Basketball
Tennis courts and basketball located at the ballpark in Hana town.
Beaches:
Hāmoa
Kōki
Wai'anapanapa State Park (Black Sand Beach)
Beach Park at Hana Bay

Dining & Shopping.
Breakfast
Hotel Travaasa dining room– open daily. Pricy, decent food.
Barefoot Café – located at Hana Bay. Great view on the beach
Surfin' Burro Food Truck – breakfast burritos and coffee. Hana town. Great food!
Hana Farms – located 3 miles before Hana town. Banana bread, fresh fruit, smoothies, coffee, and tea.
Hana Harvest- located in Nahiku, 20 minutes before Hana town. Wood fired pizza, fresh fruit, smoothies, and coffee/espresso. Excellent. Great stop on drive in or out of town 
Lunch
Nahiku Market Place- Chinese, Thai, Tacos, and BBQ. Local crafts and gift shops. 15 minutes before Hana town.
Barefoot Café
Surfin' Burro Food Truck- Mexican food. Burritos, quesadillas and homemade tacos.
Hana Harvest- Open daily. Pizza days Wednesday through Friday.
Ae's Thai Food Truck- Located in Hana town. Good price and portions.
Hotel Travassa dining room- Open daily.
Thai Food by Pranee- On Uakea Rd across from Hana ballpark. Great variety.
Hana Fresh Market- Open weekdays off Hana Highway, by Hana Health. Sandwiches.
Braddah Hutts- Local style BBQ. Located in Hana town. Excellent.
Da Fish Shack- Burgers and local fish. Open weekends.
Troy's Plate Lunch- Plate lunch. Open weekend
Hana Ranch Restaurant- Open daily 11:00 am – 9:00 pm. Pricy with decent cuisine.
Hana Ranch Food Truck- Local Maui burgers.
Huli Huli Chicken- Hawaiian style BBQ chicken. Located at Koki beach. Great ocean views.
Hana Grindz- Located off Hana Hwy. Tacos and Gyro's
Berbere- Located in Hana town. Ethiopian style food.
Dinner
Hotel Traavasa Dining Room- Open daily- Fine dining
For reservations call the hotel at (808) 248-8211
Hana Ranch Restaurant- Open daily 11:00am-9:00pm
For reservations call (808) 248-8255
Surfin' Burro Food Truck- Open Wednesday-Sunday 8:00am -7:30pm
Ae's Thai Food Open Wednesday-Sunday 8:00am -7:30pm
Hana Harvest – Open Daily 8:00am- 6:00pm
Stores & Gas:
There are two general stores in Hana town. Hasegawa General Store and Hana Ranch Store. Hasegawa's is open 7:00 am-7:00 pm daily and Hana Ranch is open 7:00 am- 7:30 pm daily.
Hana Gas is located across from Hasegawa's. Their hours are 7:00 am to 8:00 pm Monday through Saturday and 7:00 am to 6:00 pm on Sundays. There is also a post office, bank, and a few gift shops located in the center of Hana town.
Life in the Jungle.
The Hawaiian rainforests are a tropical moist broadleaf forest ecoregion. Each island is divided by a windward side and a leeward side. Windward generally consists of the north and east facing shores and is characterized by a wetter climate. The leeward, on the other hand, consists of the west and south facing shores, and is characterized by a drier climate. Hawaii, well known for its mild subtropical weather, actually has climates which rival the harshest places on earth. From alpine snow to desert-like sand, each island is made up of several "microclimates" that range in both temperature and precipitation.
For the 28 million years of existence of the Hawaiian Islands, they have been isolated from the rest of the world by vast stretches of the Pacific Ocean, and this isolation has resulted in the evolution of an incredible diversity of endemic species, including fungi, mosses, snails, birds and other wildlife. Particularly, in East Maui, we are lucky enough to be surrounded by some of the most rich tropical jungle in all of Hawaii. That being said, to keep the jungles natural beauty, the waterfalls flowing, and the ecosystem healthy, there is an abundance of rainfall year round. The winter months (November-March), tend to be considered the "rainy season," however, there is always a chance of a daily shower, no matter the time of year.
With all this rain, there also tends to be an abundance of mosquitos and other small insects. Therefore, be prepared to carry bug spray on your daily excursions and hikes. Hana Ocean Palms Bungalow, however, is located in a region of Hana known as "Maka'alae", which translates to "eye of the sun". This side of Hana, with its open pasture land and close proximity to the ocean, tends to be sunnier and drier, which means fewer mosquitos compared to the thicker jungle regions. Other critters you may encounter are the Hawaiian Geckos. These comic creatures are friendly and harmless and tend to be just about everywhere. We  love having them around because their favorite snack is mosquitoes. The bungalow itself does have monthly professional pest control, however, as you probably have figured out by now, the jungle and the insects that live here are relentless, so we do ask that you keep all your food properly stored and put away too avoid any unwanted critters.
Hawaii is lucky enough to not have poison ivy, deer ticks, or any other poisonous animals, reptiles, or amphibians. Other than insects, the islands small animal population consists of wild pigs, mongoose, song birds, owls, feral cats and chickens. If you're lucky and pay close attention you may even get a chance to spot one of our local Jackson Chameleons.